Keynotes, Training, & Coaching creating teams who feel whole, happy, and fulfilled in their work.

I now see how to tie my passion to my work, and the
importance of giving myself permission to prioritize time
for doing the things that get me into my A-Game.
Joshua P. Romero
Strategic Communication | Diversity, Equity & Inclusion
How do you create an environment where your team members WANT to bring their best to work?
Especially when they are struggling with motivation, ideation, and performance?
You teach them a Flow Strategy™ that lets them feel their best and perform their best, on demand.
That's where Diane Allen comes in
Hi! I'm Diane!
As a Flow State Speaker and Violinist, I work with organizations in every kind of industry teaching their leaders and teams how to get into the Flow State,
on demand.
It started when I was a young violinist. Feeling bullet-proof with my New York City violin training, I'd show up to auditions with visions of winning the job of my dreams. But nerves would get the better part of me.
Unable to get the work I was qualified for; I was at a high risk of living an unfulfilled life with my music trapped inside of me.
After ten years of experimentation, I discovered that by deeply focusing on my musical interpretation I'd get into the music, drop my nerves, and perform beyond what I thought I was capable of!
Turns out, my deep focus gave me access to the Flow State, an optimal state of mind when we feel our best and perform our best.
I went on to become a highly sought-after violin teacher and the Concertmaster of The Central Oregon Symphony (lead violinist). Not only was I able to put all of my training, skills and passions to full use, but I would experience personal bests daily.
So, I made getting into flow a repeatable process. (TEDx/TED talk)
Through the three-step Flow Strategy™ system, participants learn to access the peak performance that already exists within them so they can engage deeply, be highly productive, and tap into their greatest joy and fulfillment.
Learn How to Access Flow on Demand
Keynotes
Experiential keynote performances that combine music, visuals neuroscience so your team can:
Engage in their work at a deeper level.
Tap into their creative genius.
Have more fun and be more productive.
Training
Train your leaders to help their teams find flow in their daily work. Your leaders will know:
How to tap into their Flow Strategy™, on demand.
How to help their teams identify their own Flow Strategy™.
How to create group flow in meetings and creative sessions.
Coaching
Coach your leaders and employees to discover how to attain a peak state, on demand:
Discover your unique Flow Strategy™.
Increase performance levels.
Experience more meaning, joy, and fulfillment.
Beyond Engagement
™ Results
What if the key to being fulfilled is something your teams already know how to do? Flow, the positive psychology of peak performance, occurs naturally for every one of us. Gift your people the path to harness its power so they can feel whole, happy, and fulfilled in life and work.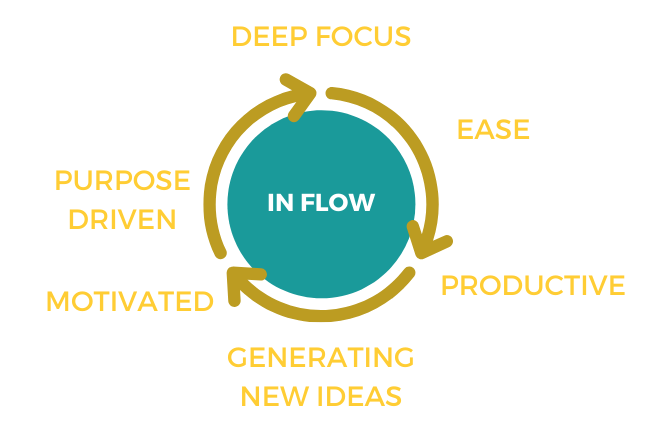 "Thank you for speaking for MPI Oregon. You are a pleasure to work with and I really wish all speakers were half as kind, helpful, and flexible as you. Your professionalism is unparalleled. Meeting Planners are lucky to have you in their contacts." 
Chase Brunson, CMP
Convention Services Manager Embassy Suites by Hilton Portland Washington Square
"Diane's ability to talk about the philosophy behind her Flow State while simultaneously communicating it auditorily through her music was an incredible combination. It translates beautifully and it's something you won't want to miss!"
Elizabeth Williams Editor, Modern In San Antonio
"Diane impressed us with a terrific presentation full of insight, as well as some beautiful music that truly set her session in a different league."
Robbie Heacock
Associate Director/Meeting Planner
Stringfellow Management Group
"Thank you for the great presentation yesterday!  It was just what we all needed.  I've been thinking about my personal flow state and loving the results!"
Andrea Voorhees
President
Lane County Human Resources Association